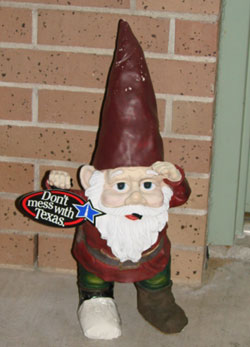 We were up and out by 6:30 am. Us and all the truckers. The weather was a crisp 52 degrees, it feels wonderful! Almost need a jacket. (Maybe in a few days I will change my mind)
Our first obstacle of the day was pea soup thick fog, WOW! I now see why people have accidents in the FOG. I also thought that was a bit odd, not anyone. I've included an artist's rendering of the FOG! See it here on the right.
.. What? You can't see anything?
Neither could we.. we battled it for about 2 1/2 hours. No need for caffeine on this trip. Just drive for a couple hours in the fog!
Louisiana has HORRIBLE roads! We were bouncing all over the place. Talk about holding on for dear life. I've never seen anything liusy with like it.
Driving over the Mississippi river was an amazing experience. I wish I could've seen it I was too busy with my eyes glued to the trailer and my hands firmly wrapped around the steering wheel. Blisters, I am getting blisters on my hands from gripping the wheel.
Next up Houston, OH VEY! Mobile was rough – then we look at the map for Houston and it looks like a big bowl of spaghetti. We tried to plan it so we did NOT enter during rush hour. We go there about 4:00PM. *sigh* I am sweating bullets by this time. It took us about 1 hour to get through, it was CRAZY – a ton of traffic, but not as stress full as that Mobile Bay
Bridge. Maybe we're just getting use to it… NOT!
We are currently resting in a small town just west of Houston,TX. A place called Sealy, TX ( population 5248).
We had our first taste of Bar-B-Que for dinner – it was ok. We'll try some more tommorrow.
We oull in the shell station to fill the cars up for the next days drive. And there must be 300 birds overhead on the powerlines. The guy in the shell station said it happens 2 times every day, once in the morning, and once again durring dusk, It was amazing. We took a video of them and a still shot. Here ya go… I was so messmerized by the birds, I over filled the gas tank in BMW, and poured gas all over the place, including my sneakers and socks, OY! I am such a mess up sometimes.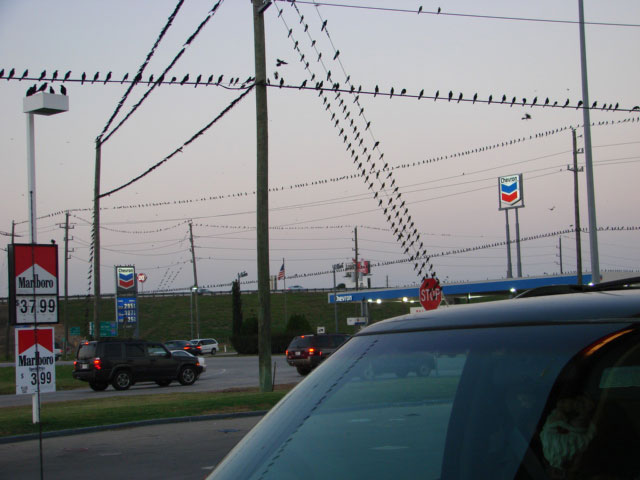 Ok, as they say in Texas, "I'm fixin' to go to bed, I am all pooped out"
Good night y'all!