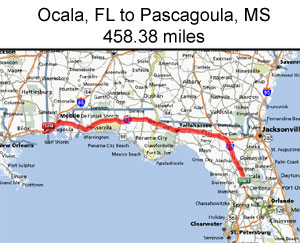 Nothing very exciting to report. We've made it into Mississippi, Pascagoula, MS (population: 23,719 Current temperature: 51 F) .
We had a WILD ride through Mobile, AL
It all started at a very large bridge. The posted Speed limit was 40 MPG. The crazy people were going at least 55MPG! From what iI can tell, it's the Mobile Bay Bridge. It's not like I had a chanceti read a sign or anything! Have ya ever heard of white knuckling it.? Let's just say
I am developing blisters on my hands from holding the steering wheel s o tight. I am truly convinced I can drive anywhere after today. Don't let this pretty picture fool you! It was an insane. ride over the bridge. Not to mention, the tunnel at the end, the crazy lane changes to keep on I-10, the laggin motorists , that caused the trailer to brake in he middle of all of this insanity.
The gnome is resting comfortably after some minor surgery – poor guy took a tumble out of the truck as we opened the door to repair the dangling side view mirror. Oh did I mention the mirror is being held on by duck tape and a prayer. So far so good! And of course the trip would not be complete with out a little electrical issue. Nothing major,just a bad connection on the right blinker of the trailer.
Did I tell you? We are communicating between vehicles via walkie talkies. Apparently they're battery life is not as long as our driving time, They ranout of juice about an hour before we did.
Some minor bumps and bruises (course the guy driving the trailer would beg to differ that the bumps in the road have been minor.
Well, its late and we're tired. I am off to sleep.
More tommorrow..