Welcome to my adventure blog. Here I will share with you all of our adventures as we travel across the country.Due to weather our trip was delayed by 2 days. Concerned about the high winds and driving the trailer we felt it was a smart idea to wait until the winds subsided. Who would've thought a tropical storm would be causing problems as we were to head out of a Florida. Just our luck tho – EVERY time we move we do so with a hurricane looming… On the day we were suppose to leave there was a 5.6 earthquake in the location were we are headed. *sigh* From hurricanes to earthquakes. I think the powers that be don't like it when we move all of our stuff!
Speaking of stuff, we have to much! We sold ALOT, we gave away ALOT, we have no furniture, except for a folding chair and 2 folding tables, yet some how we were able to PACK a 6′ X 12′ trailer. And I do mean PACK! We couldn't get another thing in there if we had to. So it is with exhausted bodies (we're getting old) and frayed nerves (and tires – more about that later) we begin our journey.
My passenger for the trip is the last gift my mother ever gave me before she passed. A very large FROG. He and the Gnome ( A Home is not a home without a Gnome) are riding shot gun! Expect more about the frog and gnome later as we travel.

Our first day of travel brings troubles on the turnpike. Fifty miles north of our previous place called home we experience a blowout on the trailer. I am driving behind the trailer for just this reason. At first I thought it was just some debris driven over, soon I realized the trailer tire was the debris. Equipped with walkie talkies to communicate between the truck and the car, I grabbed the walkie talkie and in a very calm voice (me calm in an emergency = ha ha) said …"the right rear trailer tire is shredding". Luckily we were just south of an exit ramp and had plenty of room to pull over.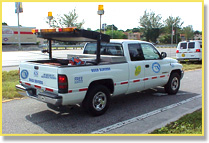 With the help of a CB radio we were able to call FHP (*FHP in case you find yourself in a similar situation) and get assistance. I rode back with the ranger to get air in the spare. He was nice enough to share a story with me about a recent accident on the south bound turnpike.
A guy driving a pickup truck going 100 mph ,2:00 in the morning crashed right into the barrier wall. When they went to go find the guy they found him 100 feet from the vehicle , decapitated. Hey – thanks for the cheery tale 🙂 Here's the kicker – he was an off duty police officer coming home from a party and drunk! Way to go dude – at least he did not hurt anyone else.
So, here we find ourselves, in a hotel room in beautiful West Palm Beach. It's really not that beautiful.. its just sounds better this way.
Hopefully day 2 will have better news to report. Our first stop a trailer shop for new tires.
Wish us luck!